Vacature Senior Business Developer/Project Manager
In het kader van het internationale karakter van deze functie is de vacture in het Engels.
SENIOR BUSINESS DEVELOPER and PROJECT MANAGER (M/F)
for the PerspActive SUSTAINABLE AGRICULTURE – project in UGANDA
Stationed in: The Netherlands, with regular travelling to project sites in Uganda
PerspActive is a Dutch cooperative of nine Christian NGO's which have the ambition to create a new perspective for a new generation by bridging generations. By joining forces, combining assets as expertise, networks and finance and staff PerspActive members make together the difference. The intervention of perspective covers under the title Next Generation Perspective following working areas: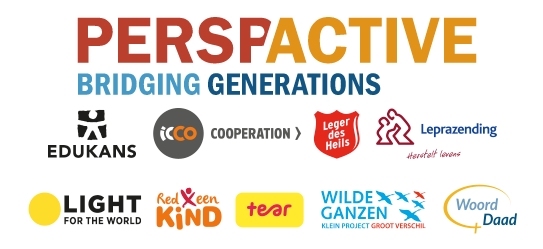 Sustainability including ecology and sustainable agriculture
Employability and working skills
Enabling environment and attitude
We are looking for a senior Project Manager (M/F) for the first-year of our Sustainable Agriculture project in Uganda which is a project to be executed by the ICCO, Tearfund Nederland, Red een Kind and Woord en Daad, members of PerspActive and under the lead of member Woord en Daad. Proposition development and securing funds is the first part of the job. The PerspActive members will facilitate seed money. The project lasts from January 2018 till December 2021 for its implementation. The business development of the case will be done in 2017. The job will be in first instance for the proposition development and the securing of funding. In case of successful performance in this stage appointment for the rest of the project period is possible.
In the project, we distinguish two phases: the co creation phase within the framework given by the board of PerspActive including composing a result oriented project team, securing the funding and forming a consortium both in The Netherlands and in Uganda. The main outcomes of the sustainable agriculture project in Uganda are mentioned at the right. For more details, see project framework in the annex. This phase regards the first year.
We are looking for a senior Project Manager who:
Is result-driven and able to effectively manage a diverse consortium of implementing partners;
Is an inspirational, creative and motivating leader and a people person with ability to resolve matters constructively; good in implementing projects as well;
Has a proven track record in developing and composing winning consortia and proposals;
Can communicate and network easily with diverse persons in the public, private and civil society sector;
Can develop and maintain close contacts with relevant and diverse institutions and organisations (including public and private sector and civil society) and to establish mutually beneficial types of cooperation;
Can manage and guide a consortium to effectively and complementary implement a project, including identification of capacity building areas;
Can manage complex/multi layered and multi actor projects;
Assists consortium partners in contract management;
Can travel regularly to areas of intervention in Uganda;
Is a committed Christian (with protestant/evangelical background) or understanding the protestant/evangelical background and deeply respects this.
Qualifications needed/what we are looking for:
At least 5 years of relevant working experience in multi actor partnerships in a senior project management position in Uganda and/or other African countries;
Relevant academic/educational qualification (or similar competencies based on previous working experience);
Competent in composing a winning project team which can develop ideas and implement a project
Experience in translating an idea in a proposition or project and making an idea happen;
We offer:
A contract for one year with an option for renewal;
Attractive financial package that is also based on achievements;
A challenging working environment in an international setting.
Place of work: The Netherlands, with regular travelling to project sites in Uganda
Starting date for work: as soon as possible (March 2017).
How to apply: Application made of cover letter (in English), curriculum vitae (in English), proofs of experiences and academic qualifications copies, should be addressed and sent to the executive board of PerspActive by e-mail address info@perspactive-coop.nl. Please make sure you indicate the job title "SENIOR BUSINESS DEVELOPER AND PROJECT MANAGER UGANDA" in your subject line. Only MS Word application or PDF files will be considered.
For queries kindly send an e-mail to the board of PerspActive. For more information about PerspActive, visit: www.perspactive-coop.nl. Only shortlisted candidates will be contacted. Deadline for submission: March 18, 2017. Job interviews will most likely take place between March 22 and March 25, 2017.
www.perspactive.ngo